What is the best jewelry organizer? Experts reveal what you should know.
Jewelry boxes, trays, drawers and pouches are just some of the many types of jewelry organizers found in the market today. Each one has its own set of advantages and disadvantages and none of them is perfect as all things in this world.
Cocktail rings, statement earrings and layering necklaces are getting all the attention nowadays but organizing them is a totally different thing. With the skyrocketing prices of space, we are simply left to contend with just a handful of them. Choosing the best jewelry organizer can be a tall order especially when you are a first time. Don't worry, because we got you covered. We interviewed several professional organizers and here is the lowdown of it all.
Jewelry Boxes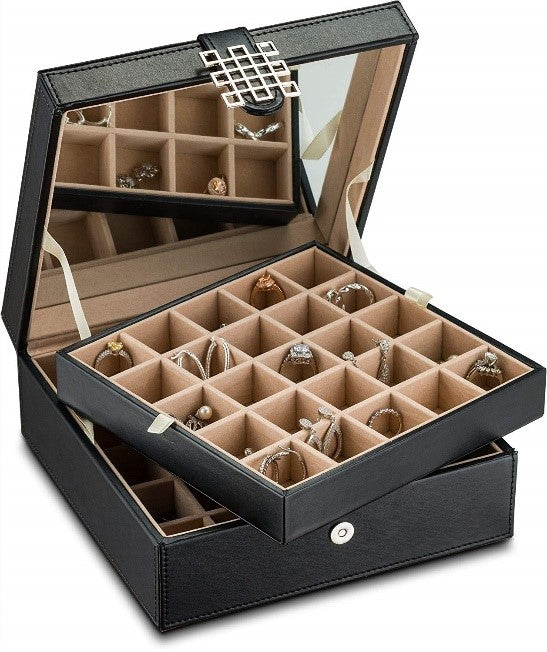 Elegant and functional. This is what comes to mind when we think about jewelry boxes. The exterior is made of leather and the premium ones have a velvet interior which can be a great way to keep your pieces of jewelry from tarnishing and avoid scratches. Most premium jewelry boxes have a small cosmetic mirror which allows you to see yourself in the mirror when trying on some pieces. If you are the type of a woman who loves to layer her necklaces and bracelets, then this is not the storage solution you are looking for. Necklaces and bracelets tend to tangle when stored in a small and cramped space. So, think again.
Jewelry Trays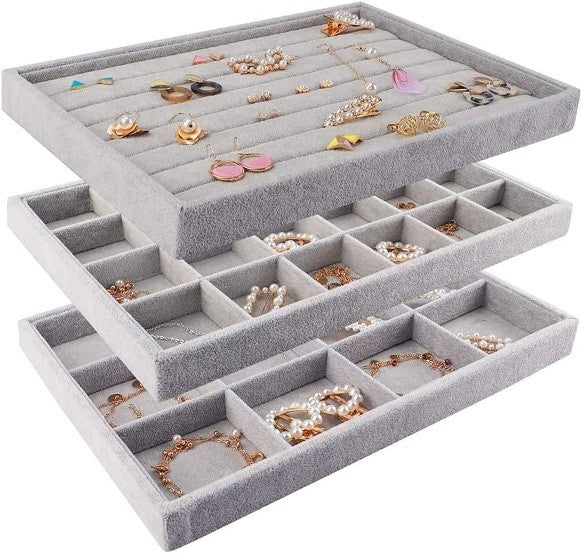 If you have an abundance of counter space in your vanity area, then this is as good as it gets. Dedicated slots with velvet interiors is a sure way to keep your precious gems sparkling and scratch-free. Professional organizers recommend that to get a set of these and not just one so be prepared to have stacks of it. Also, having one tray for each type of jewelry you have is a good idea to avoid getting stuck looking for the pair you need. Jewelry trays are the most accessible type of storage solution however it also lacks the privacy your pieces need.
Jewelry Drawers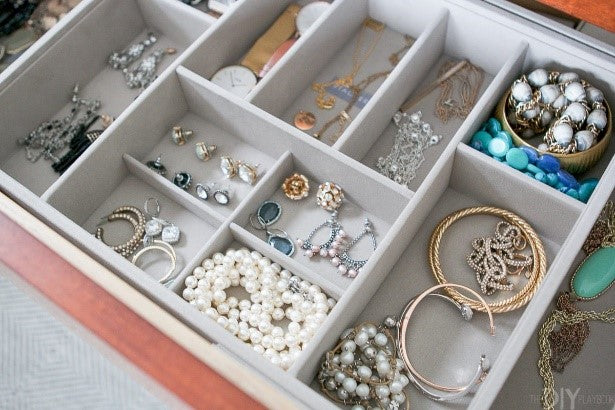 This is a perfect jewelry storage solution for those who are looking for dedicated slots, and a lots of privacy and space. Having a jewelry drawer is more complicated than you think. Just imagine buying a furniture solely for the size of the slots. Although these drawer slots come in many sizes and shapes, it can quite tricky.
Jewelry Cabinets

Organizing pieces of jewelry and accessories is not as easy as you think it is. There are so many things to consider. Dedicated slots and hooks, space, velvet interiors, and cosmetic mirrors are just one of the many. Another thing that you should consider before taking the plunge is the rate at which your collection is growing. So think again before you dive right in. Most professional organizers agree that the best jewelry organizer is a jewelry cabinet. The Stella 6 is a premium jewelry cabinet from LUXFURNI. One can honestly argue that it is the best in the world. Imagine having 130 earring slots, 24 hooks for your necklaces and 12 hooks for your bracelets plus 4 acrylic storage drawers all wrapped in a smooth anti-tarnish velvet material that helps prevent from oxidation and scratches. While you are at it, throw in your makeup, cosmetics and other skin care products with a 4 level display rack that lets you find everything you need quickly. Revel in its interior cosmetic mirror with a detachable and stain-free cosmetic organizer that lets you focus on what you love. Yes, that's makeup. As if that wasn't enough. See your face glow and showcase your precious gems with 79 LED lights and you are all set. All these in just a square foot of space.
So there you have it. What do you think? What is the best jewelry organizer in the world for you? Tell us your thoughts and comments on the section below! See you again next time.