3 tell-tale signs that you urgently need a jewelry cabinet
Jewelry cabinets are bringing sexy back and they are not like your grandma's medicine cabinet. They are the real thing and so much more! These jewelry cabinets or armoires as they are called are fast becoming a home essential everywhere. From necklace hooks that do not fall off easily to detachable and stain-free cosmetic organizers, women just simply can get enough of them. Some mirror jewelry cabinets like LUXFURNI even have 79 LED lights with an interior cosmetic mirror inside. But do you really need a jewelry cabinet?
Here are 3 tell-tale signs that you urgently need one, fast!
#1 Necklace tangles and jewelry cabinet hooks
Storing your pieces of jewelry and accessories in jewelry boxes and trays might seem like a good idea but not until you start to detangle your necklaces and bracelets every day. Doing it once or twice is not a problem but when you are late for something, it all becomes a nightmare. So if you think this happens to you all the time, then it is about time to consider getting one for yourself.
LUXFURNI mirror jewelry cabinets hooks are specially designed to make sure that your necklaces and bracelets are tangle-free. These sturdy hooks are perfect for your chains because they don't fall of easily.
#2 Missing one pair and jewelry organizer earring slots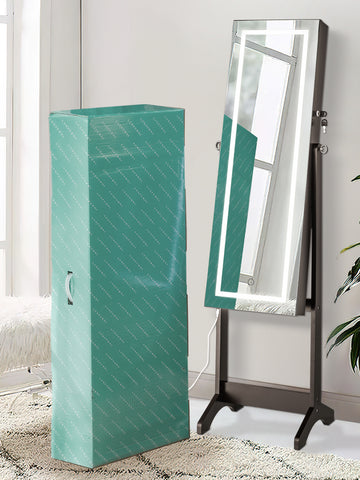 Pairing your black dress that pair of statement earrings is a sure way to get some attention but what if you can't remember where you place them? We all know this can happen to the best of us. Professional organizers suggest to store your earrings in a place where you can always see them. Showcasing is a great way to remind you of what you have while staying organized. If you are always misplacing a pair, then you might want to head online and check out jewelry armoires with fancy earring slots.
The LUXFURNI Stella 6 Stand Jewelry Cabinet Full-Length Mirror With Interior LED specialized earrings slots is designed to hold 130 pair of earrings. It also has special holes for earring studs so you need not worry about losing a pair. This jewelry armoire from LUXFURNI allows you to showcase your precious earrings and close the door for those prying eyes.
#3 Tarnish and scratches- Jewelry cabinets with anti-tarnish velvet interiors
Who wants to wear tarnish pieces of jewelry? I guess none of us but jewelry pieces are made of metal and most likely if you do not know how to store them properly, sooner or later, you will see them deteriorate as the days go by. Jewelry experts suggest to make sure they are clean and dry before storing them. This helps prolong their luster for the years to come. In case you find yourself having to wear tarnished jewelry then it is about time to purchase a jewelry cabinet with velvet interiors.
The LUXFURNI Joyce 6x Jewelry Organizer Free Standing Led Light Bar Around Mirror Armoire With Brush Holder is where form meets function. Organize your fine pieces of jewelry with an anti-tarnish velvet material that keeps moisture away. Minimize oxidation and avoid unwanted scratches and dents with its soft creamy velvet material.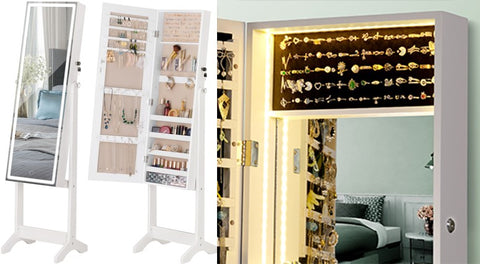 If you experience one of these 3 tell-tale signs, then it is about time to purchase one because you urgently need one. Organize everything in one place and never waste time looking for what you need again. Post your comments on the section below or hit us up on Facebook or Instagram. Visit luxfurni.com and find the perfect mirror jewelry cabinet to fit your lifestyle.