Top 3 Best Makeup Mirror with lights every woman needs
When it comes to applying the perfect makeup, lighting is simply everything. However, by investing in a makeup mirror with lights, your problem is solved. The question is, if you are a first timer, what is the makeup mirror with lights that gives you every bang for your buck. Whether you want to avoid patchy concealers or just simply shape your brows, you can level up your beauty routine with one of these fantastic makeup mirrors on Amazon today.
Before you start heading online, know the facts first. Are you just the blush on the rush type of a woman? Or are you the Instagram type who wants to do OMTD (Official Makeup of the Day) every once in a while? Now that we have started the ball rolling, it is time to go into the specifics of a makeup mirror. Grandma's vintage mirror in the bathroom won't do you any good. Trust us. Go for a makeup mirror with lights. And no, we are not talking about fluorescent lights. We are talking about LED's. In addition to that, consider color temperature corrections and uniform light distribution before anything else.
To give you a glimpse of what we are talking about, here are the top 3 best makeup mirror with lights every woman needs to have.
The LUXFURNI STARRY 7 XL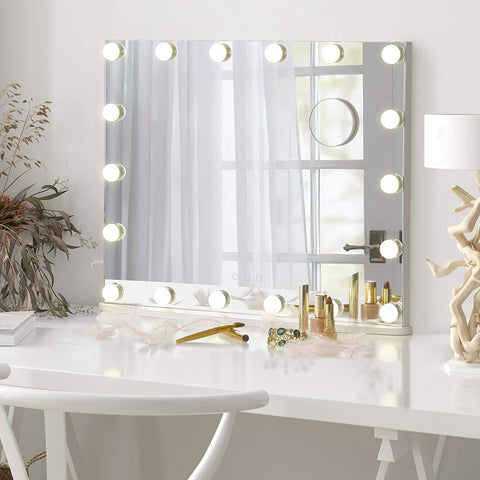 If there is one makeup mirror with lights that truly has it all, then you are looking at it. The name "XL" literally does live up to the hype of being big and wide in size. So before getting one, you might want to check on the size of your table or the wall you are hanging it to. Yes, you have two options. Another thing that you should consider is the design. If you are the modern day woman who likes everything neat and clean, then check out its edge to edge mirror design. Enjoy an unobstructed view of your face and chest area. The Starry 7 makeup mirror with lights has 18 LED's that are engineered to diffuse light entirely on your face and chest. There is nothing like putting on makeup with LUXFURNI's Uniform Light Distribution concept. Each premium LED is positioned strategically to give you superb illumination. Apply makeup anytime for all occasions with its color temperature options. Cool white for a day walk in the park and warm white for evening elegance. Oh, and by the way, smart touch technology lets you do all these with just a tap of a button. Cool right?
Learn More about Large Framless Makeup Mirror with LED lights

The LUXFURNI STARRY 5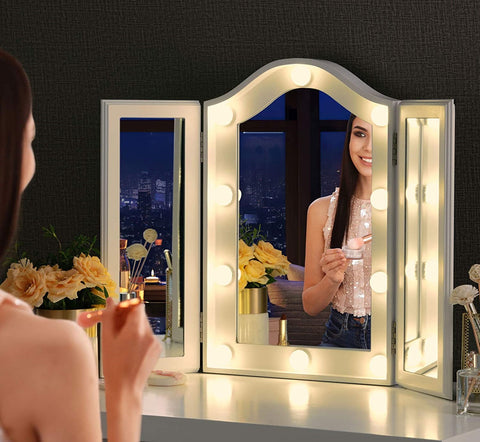 The glitz and glamour of vintage Hollywood truly shines in the makeup mirror with lights from LUXFURNI. Constructed with high-grade and weather-proof materials lends a smooth and white paint finish worthy of any celebrity's attention. Tri-fold frame design provides a panoramic view of your face and chest area from all angles. Contour and highlight your makeup from both sides and style your hair without moving a muscle. What this mirror lacks in color temperature options, it does make up for the view. Adjust the brightness without turning the lights off with its sensor controlled adjustments. 10 Ultra- bright LED's with a 90 CRI rating provide the most accurate color rendition to your naked eye. If you are looking for a mirror that combines form and function, then you are in for a real treat with this.
Learn more about Tri Fold Led Hollywood Mirror with Adjustable LED Light Dimmer

The LUXFURNI STARRY 9
If you are looking for a makeup mirror that has all the features but doesn't break the bank, then this is truly worth every penny, and more. Hollywood-inspired arched type mirror with handmade glass crystal accents provide a wide and dramatic profile of your face and chest area. Unique ergonomic design allows you to adjust and rotate up to a 90° angle according to your makeup requirements for that ultimate makeup experience. If that isn't enough, wait till you power on the 13 bright LED's that provides 50,000 hours of uninterrupted shadow-free lighting. LUXFURNI's smart touch control allows you to adjust the color temperature and brightness in just one stroke. If you are thinking of a makeup mirror with lights than is sure to give you a bang for every buck, then this is it. Check out the prices at Amazon and see for yourself.
Learn More about Countertop Hollywood Mirrors With Light Touch LED Lights, Adjustable Angle Mirror White
So this rounds up our top 3 makeup mirror with lights every woman needs to have. So what do you think? Go online and visit Amazon choose what fits your lifestyle. See you there!